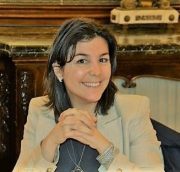 Katia DELFIN DIAZ
Owner of OmniVAT Consulting.
Professional carreer
Her VAT carrier began in the year 1993. Up to 2001, she developed her experience in VAT in different consultancy companies (better known as the 'Big 4') where she could experience some international projects on VAT but also on customs matters. From 2001 to 2010, Katia worked for the 'VAT House' where she began to give seminars, conferences and workshops on Belgian and European VAT. In January 2011, OmniVAT Consulting was created in Brussels.
Education
Master in Tax Laws – ICHEC Business School in Brussels
Free student for only VAT and indirect Taxes courses – Solvay Business School in Brussels (Program of Master in Taxes – successful attest)
Free student for only VAT and indirect Taxes courses – ESHAL Shool in Brussels (curses in Dutch of the Program of Master in Taxes – success attest)
Other
Katia Delfin Diaz regularly gives trainings, seminars and workshops in the VAT field and sometimes combined with customs matters for different specialized companies:
Kluwer Trainings
VAT Forum
Katia is the author of the book 'VAT refund procedure within the European Union', written in French and published at the Editions Anthémis.
OmniVAT Consulting is also partner of VAT Forum.
Languages
French,
Spanish,
English,
Dutch.