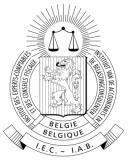 OmniVAT is recognized by the Belgian "Institute of chartered accountants and tax advisers" (I.E.C./I.A.B.).
Welcome to OmniVAT Consulting
OmniVAT is a company established in the heart of Brussels specialized in VAT, customs and excises matters.
We assist companies established in Belgium and abroad and we can advise you for any kind of activities realized in Belgium but also in any Member State of the European Union.
Discover the upmost valuable seminars on VAT, customs and excises matters in the VAT-ACADEMY: http://www.vat-academy.be/